"Pardon our Dust" - this page is under construction

It may lack information until construction is complete.
Main Article : List of Episodes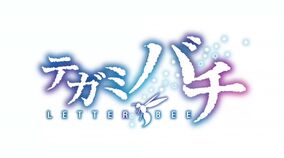 A special anime adaptation, running for about 30 minutes, was shown during the Jump Super Anime Tour events in Japan in the fall of 2008.It was titled Tegami Bachi: Hikari to Ao no Gensō Yawa (テガミバチ 〜光と青の幻想夜話〜?, Letter Bee: Light and Blue Night Fantasy), and was animated by Studio Pierrot. The Original Video Animation was translated for free by Anthony Carl Kimm on the Jumpland website with English subtitles.It was later released on DVD in the beginning of 2009. In the June 2009 issue of the Jump SQ magazine, it was announced that Tegami Bachi will get an anime series in the fall of 2009.This anime series is directed by Akira Iwanaga, and it features the same voice cast which had voiced characters in the previous 2008 special anime.This anime started airing in Japan on the TV Tokyo, TV Osaka, TV Aichi and other affiliated television networks around Japan on October 3, 2009,and it ended on March 27, 2010. The first opening theme song for this anime was revealed to be the song Hajimari no Hi (はじまりの日?), which is sung by Suga Shikao and features Mummy-D, on September 7, 2009.[8] This theme song was replaced by the song Love Lettere no kawari ni kono shi o. (ラブレターのかわりにこの詩を。 Lit. Rather than a Love Letter, Choose This Poem?), which is sung by singer Seira, in episode 14 of the anime onwards.Tegami Bachi was also broadcasted within South-east Asian countries and Taiwan by Animax Asia, starting on August 16, 2011. A second season of the anime, called Tegami Bachi: Reverse was announced in the Puff magazine in Japan during an interview with the artist.This season of the anime retained its previous voice cast, and is also directed by Akira Iwanaga.The second season of the anime premiered on October 1, 2010.