Pardon our Dust - this page is under construction

It may lack information until construction is complete.
Lawrence
Kanji

ローレンス

Rōmaji

Rōrensu

Characteristics

Gender

  Male

Age

N/A

Hair Color

Black

Eye Color

Black

Professional Status

Affiliation
Occupation

Leader of Reverse

Personal Status

Voices

Seiyu

Koji Yusa
Lawrence (ローレンス Rōrensu) is the leader of a group called Reverse, and the primary antagonist of the series.
Appearance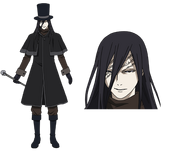 Lawrence is a man with waist-long black hair and a very tall stature. He wears a long black coat with wide gray-lined sleeves covering an interior layer of brown long-sleeved shirt and trousers, along with a matching black top hat, gloves and boots. He has a pale complexion and scars across his forehead and right eye.
Summary
Reverse's objective is to cause a "rebirth" of Amberground through eliminating the man-made sun. The agents who work for them are called Marauders, people who intercept Letter Bees and steal the letters for the heart contained within. Somehow, he was able to grab hold of Gauche Suede after he became unconscious due to unknown reasons. When Gauche woke up, Lawrence told him he was a Marauder and provided him with an assistant/partner(whom Gauche later named Roda). Gauche was given the alias of Noir, and started to claim Gauche Suede doesn't exist anymore. Lawrence is currently known to have four Mauraders under him, (Noir, Roda, Zeal, and Mie) and sends them off on missions to steal letters and he heart within. In the anime he sacrificed his enhanced 'heart' to empower the Gaichuu Cabernet in order to destroy the artificial sun.
Quotes
"If this story is true, then personally I'd be far more interested. In first finding out, exactly who are you, Largo Lloyd." Lawrence to Largo
Trivia
Largo Lloyd has commented that Lawrence's plan to destroy the Artificial Sun was too shallow to have any lasting effect.
Community content is available under
CC-BY-SA
unless otherwise noted.