Pardon our Dust - this page is under construction

It may lack information until construction is complete.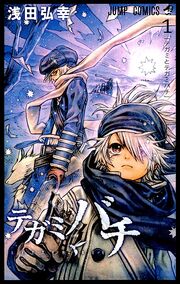 Tegami Bachi (テガミバチ, English: Letter Bee) is a Shōnen manga written and illustrated by Hiroyuki Asada and published by Shueisha in Japan. The series was first serialized in the September 2006 issue of Monthly Shōnen Jump. After ten chapters, the manga was moved to the new monthly magazine Jump Square. after the Monthly Shōnen Jump was ended by Shueisha in June 2007. The manga ended in November 2015 and was compiled into 20 volumes.
At the 2010 Comic-Con International, Viz Media announced that it acquired the license for Tegami Bachi to be released in North America. The company serialized the manga in the North American Shonen Jump magazine from March 2009 to March 2010. It released the English version of the manga in the tankōbon format, with all 20 volumes released by 2017. Additionally, in Australia and New Zealand, another English version of Letter Bee was released by Madman Entertainment.
Tegami Bachi was also translated into various languages including Chinese, Italian, French and Spanish, and released in their respective countries of Taiwan, Hong Kong, Singapore, Italy, France and Spain.
Plot
The story is set in a fictional land called "Amberground", where an artificial sun only illuminates the capital of the land, Akatsuki. The story follows the main character Lag Seeing, a letter bee who has a special ability to see the memories of people and items, and his personal dingo Niche on their journeys around Amberground.
Reception
In Japan, volume 2 of the manga debuted at the 6th position during the first week of its release.[1] The manga was also praised for its appeal to both male and female readers with its thrilling action, a magical world full of mysteries and likeable characters.[2]
External Links
References
Community content is available under
CC-BY-SA
unless otherwise noted.